Programmable Voice API and Speech Analytics
Programmable Voice communication is much more than the plain old telephone call
Enrich voice communications by programming conveniences like call recording, identity masking, interactive responses, intelligent routing, speech analytics, and much more.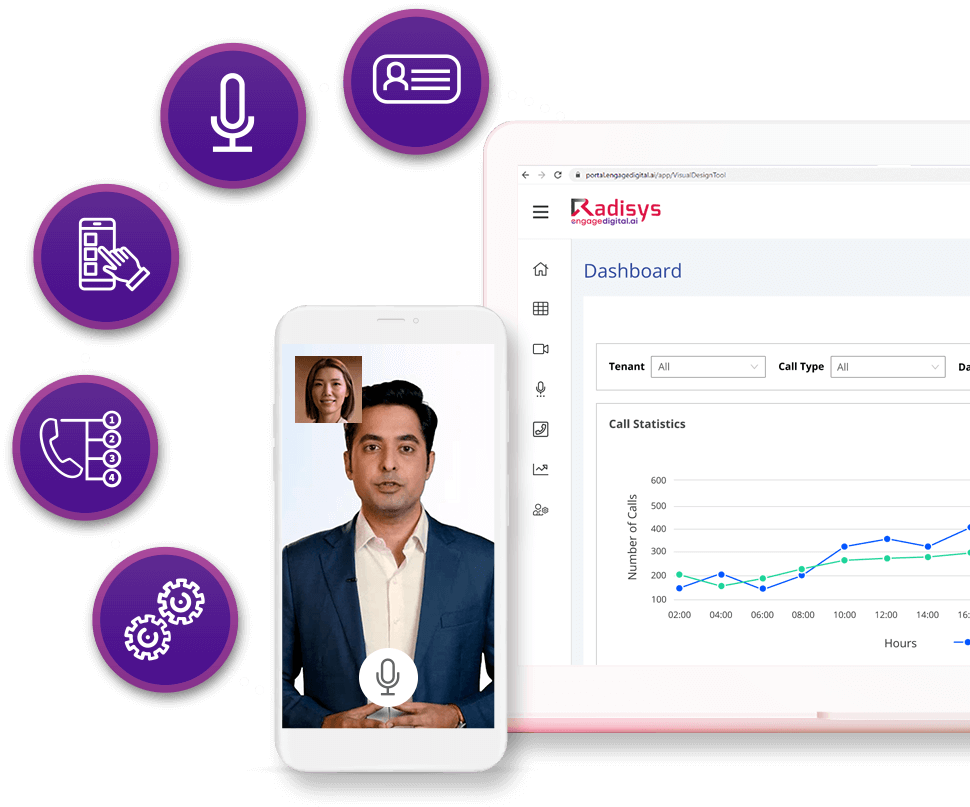 Stop playing telephone tag. Shift to contextual communication with Engage Programmable Voice
The customer experience is wracked by telephone tag, the absence of personalized communications, a lack of interactivity, and the nuisance of irrelevant responses and calls. Programmability weeds out such pains.
Engage Programmable Voice enables communication with any person or device with an internet connection or a phone number. Integrate crystal clear voice calls on browsers and mobile apps.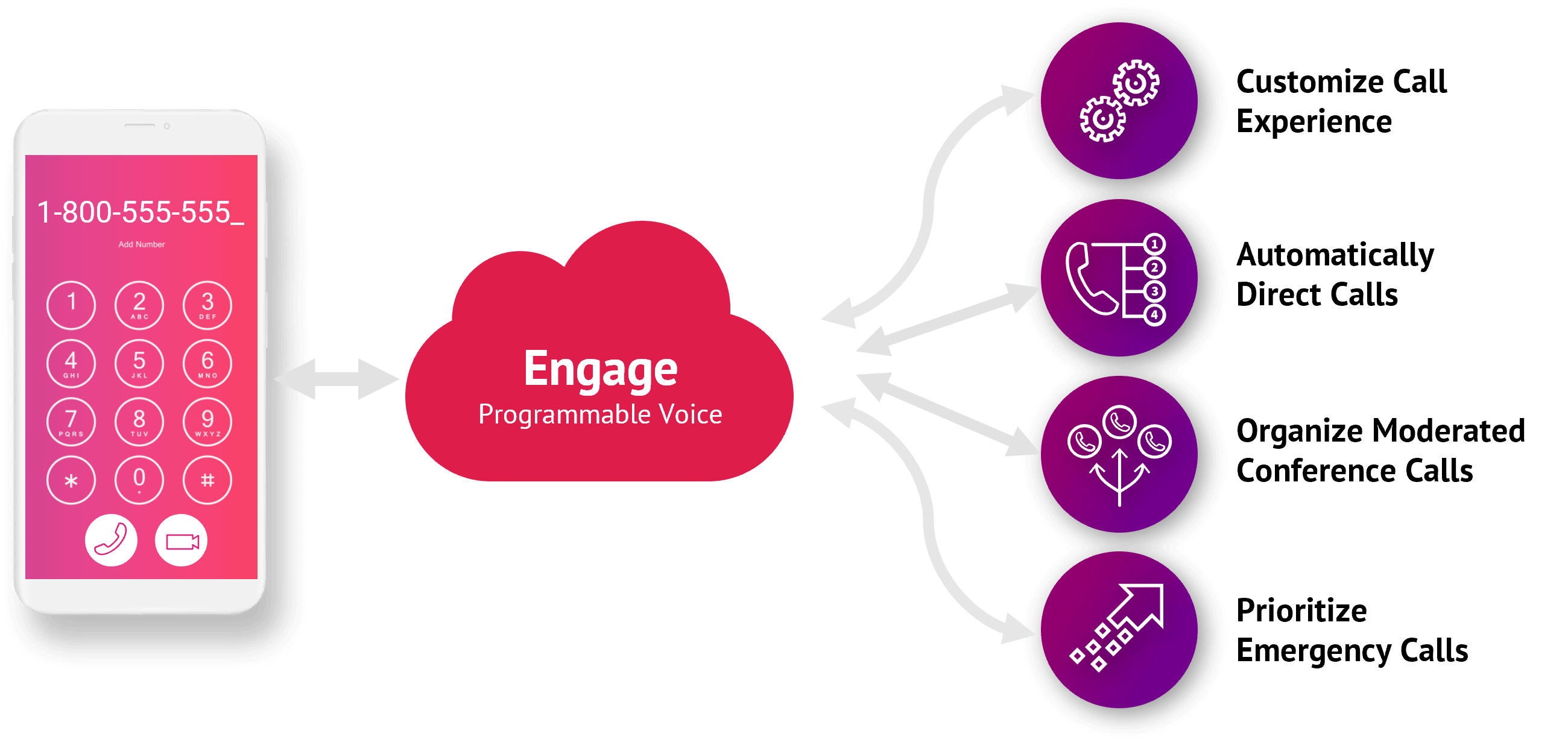 Build communication experiences in minutes
Increase customer satisfaction with call controls.
Use your own phone numbers or work with one of our partners.
Record and analyze voice calls for compliance, quality control, and post-call analysis.
Add conversational AI interactions.
Inbound, outbound, and hands-free call controls
Flexible P2A, A2P, and multi-party calling
Bring your own phone numbers
Click-to-call
Call recording
Call masking
Play announcements
Text-to-speech
Speech analytics
Leverage the tools that best suit your style, skills, and use case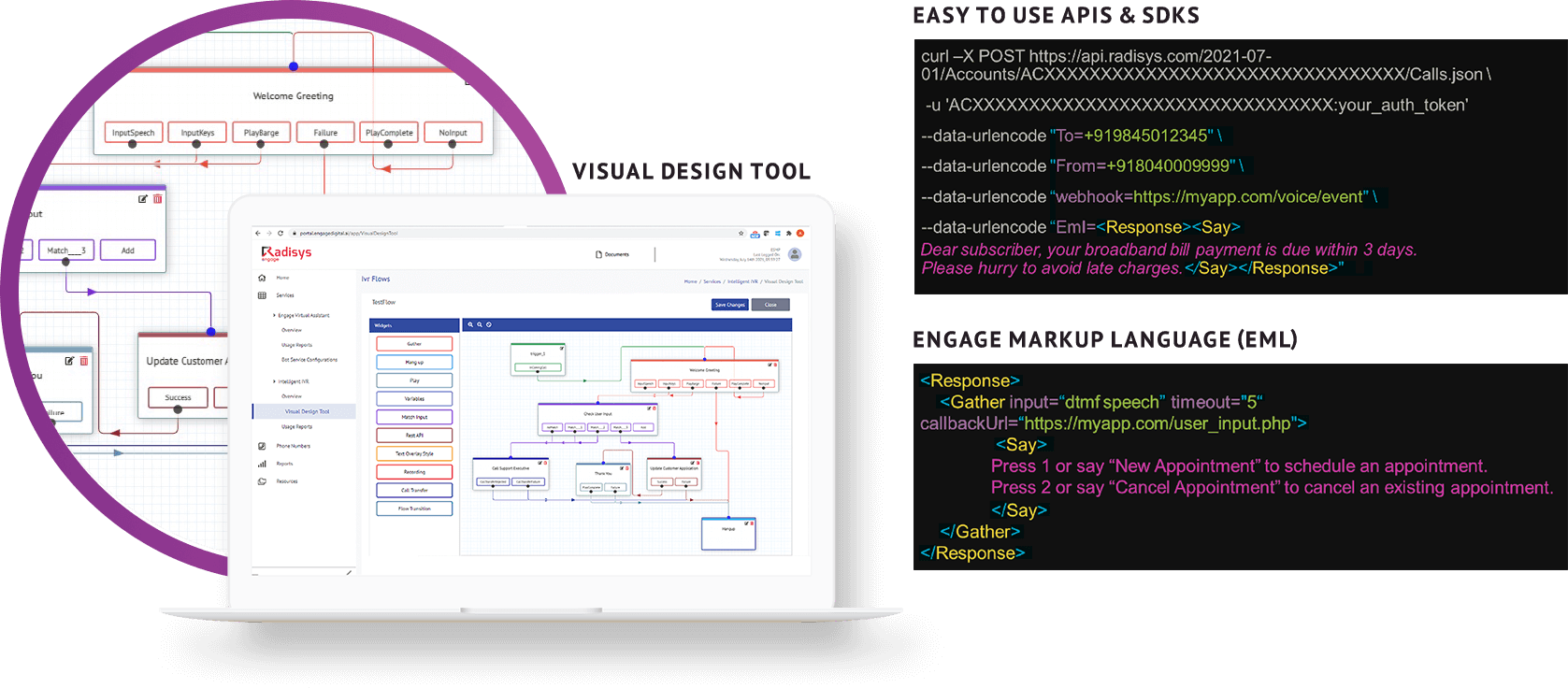 Boost business efficiency with
programmable voice & automation
Improve customer experience
Enable customers to register a call back instead of getting frustrated with long waits.
Automate business processes
Automate opening a support ticket, activation of services, or voting for a contestant with a DTMF-based or voice-based responses on a phone call.
Take hands-free voice notes
Free up doctors' time to see more patients. Voice note taking can happen as the consultation between doctors and patients is underway, saving time, reducing the chance of error, and providing more time for patients.
Track campaign performance
Track ROI of targeted marketing campaigns with detailed call analytics on dedicated phone numbers used for campaigns.
Qualify sales leads
Qualify sales leads with conversational bots and transfer hot leads with interaction details to the right sales manager.
Improve purchase experience
Cut down long web searches. Instantly direct customers to the right agents or intermediaries with click-to-call on your website and apps.
Send mass alerts & notifications
Schedule automated phone calls to remind users of their upcoming appointment or payment due date. Broadcast emergency alerts by easily converting text to speech on voice calls.
Act timely with IoT triggers
Have communication-enabled IoT devices or business application call the right response team about signs of breach or anomalies.
Protect customer identity
Enable interactions between buyers and sellers for e-commerce and ride-hailing without revealing their real phone numbers.
Why Engage Digital Platform?
Your force multiplier to deliver differentiated AI-based digital engagement and immersive communication services
Go beyond traditional
Go beyond traditional voice, video, and SMS by creating experiential digital services. Bring the human into digital interaction with natural language, immersive video, and analytics. Create stickiness and a demand for premium services.
Take full control
Deliver quality of experience and control costs with various hosting options — from private cloud to public — that meet your goals, budget, and compliance needs.
Future-proof applications
Cloud-native architecture means deployment on an optimized, multi-access edge compute platform monetized for 5G network investments. Monetizing applications such as computer vision and AR/VR are in the realm of possibility.
No code / low code visual tools
A visual interface gives you tools to intuitively assemble components and visual models of logic to rapidly create digital services. Your solutions are calibrated to your environment and customer needs.